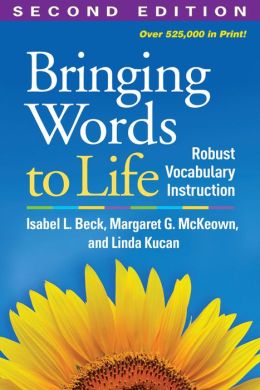 In my ongoing battle for students to absorb vocabulary, I have found a technique that I have very slowly begun mentioning to my students: Word Wizard. This technique
, focused on extending vocabulary beyond the classroom, comes
from
Bringing Words to Life
.
As we have discussed different words throughout the year, I have tried to point out to my students when I have heard and/or read our words outside of class, whether it be on a television show, in a book, in a magazine, in a conversation. On occasion, I have had students come back and tell me that they are also encountering our words in life outside of school (vex seems to be a very popular word).
This is the premise of Word Wizard. In
Bringing Words to Life
,
the authors set up a Word Wizard system in which students earned extra-credit points based on vocabulary evidence by sight, sound, or use outside of the classroom lesson.
I am not a big fan of extra credit assignments, but I do like the idea of giving extra credit points for being a Word Wizard (celebrate the nerdiness).
So here is what I have done so far:
I have encouraged my students to be on the lookout for our words because they might be rewarded in the future. Because I came across the Word Wizard idea in the middle of a marking period/end of semester, I decided to hold onto it until our second semester.

I have started using a Word Wizard hashtag on Instragram (search #wordwizard and/or @kirstenfoti). Whenever I run across one of words, I post it. Sometimes I take a screenshot of my Nook book. Sometimes I type out a quote from a TV show. Sometimes I take a picture from a book. Anything I can do to put our words out there.

One of my students actually filmed a segment from the TV cartoon

Lilo & Stitch

, pointing out that there was

rubble

(one of our words) on the screen. He then told me that he really think that episode helped him understand the word even better.

I have started inviting my students to be Word Wizards. Yes, they let me know that I am dorky, but I know that I can sucker them into this.
My next step is to introduce the Word Wizard system to my students when we return to school in January. I am going to create a classroom poster (
link added 12/17/14
) that contains the words we have covered so far this year. As we learn more words, I will add to it. When the kids bring me evidence
(
link added 12/17/14
)
of a word encounter, I will put a stamp next to the word (may as well work in some math graphing skills), and the student will receive a coupon
(
link added 12/17/14
)
for five extra credit points on any assignment.
I am definitely seeing successes with vocabulary in my classroom. We are moving beyond rote memorization and moving on to fluent usage. I am going to share this idea outside of my content area and see if we can create a new culture within the school. It is a grand idea, but if we expect our kids to dream big, we must also dream big.
_______
As I finished typing this post and clicked Publish, one of our classroom words (fancy = to imagine) was used by Lena Dunham on a repeat episode of Ellen from last October. I am getting ready to post it on Instragram!