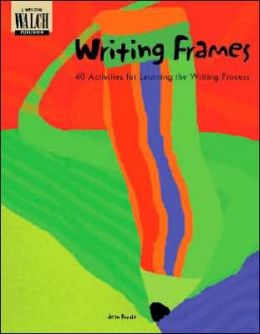 For the first semester of school, I have had my students completing assignments from Writing Frames. I have used this book for years because it provides scaffolded writing lessons. These are very beneficial to my lower-level ELLs, special ed., and dyslexic students. They have probably even saved my Pre-AP students some thinking.
For the second semester, I am ready to pull the rug out from under them. It is time to do some actual thinking for their writing assignments. So, I went to my handy-dandy bucket of writing books and pulled one out.
You thought I was joking,
didn't you?
The Write-Brain. 366 exercises. Plenty to choose from. I have used this before, but I have never had my students complete many of the assignments. (Honestly, I bought it for me, but I have not completed many of the assignments.) I don't think I have touched more than five of the assignments. Well, that is a waste of my money and my resources and my push for myself to do more writing. So time for my kiddos to get to work.
Because of the high number of laptops we now have on campus, we are under pressure to really move to being paperless. My students do most of their work on the computer (I have 1:1 in my classroom), but homework assignments have always been a concern. I have decided that I am going to survey who can access online homework assignments, and I will make paper copies for those who need them, or they can come in after school on tutoring day to complete the assignments.
Their first assignment from The Write-Brain will be Day 1 (may as well keep it simple for myself). One of the things I have worked on over vacation is exploring what I can do with different types of social media. I have discovered that there is value in Pinterest - aside from sharing recipes. I have started making resource folders for my students. I am also trying to use for photo editing apps to bling up my assignments a bit. (Yes, I know I am a nerd. It's all right. My students love me for it.) All of this will be linked up to Edmodo for assignments to be completed.
My "blinged" up assignment.
Yeah, this is going to take some practice.





If nothing else, this forced me to do some writing of my own.